Vinhomes Nguyen Chi Thanh
View updated lising of Apartments rental in Vinhomes Nguyen Chi Thanh
Vinhomes Nguyen Chi Thanh Hanoi is built on ​​13,039 m2, including two 30-storey buildings: apartment tower and Grade A office high-rise. Vinhomes apartments spread from 7th to 30th floor. Commercial center – services is located on 6th storey. Vincom Center supermarket is in B1 level. There are 5 parking basements plus many other utilities which meet the needs of residents.
The residential building consists of 378 luxury apartments with classic neo-classical inspirations combined with minimalist exterior features and wide windows in all bedrooms. It gets natural light as well as perfect convection air for your whole home. The units are designed from 54m2 up to 170m2, ranging from 1 till 4 bedrooms, arranged scientifically in order to maximize utility, providing comfortable living space. In particular, the 7th floor apartments will have more space with a unique green garden.
Rent Apartments At Vinhomes Metropolis Hanoi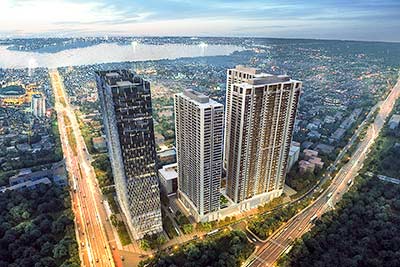 View Apartments for rent at Vinhomes Metropolis Lieu Giai Hanoi, Offer 1 to 4 bedrooms luxury and spacious penthouse offers five-star facilities for the upper life of the elite. Find an apartment to rent at Vinhomes Metropolis Hanoi, whatever you are looking for, from 1 to 4 bedrooms luxury apartment or spacious penthouse offers five-star facilities for the upper life of the elite. Let's our real estate expert select and send you listing of available apartment matchs your requires with real photos and detail.
1-bedroom apartment: 53.3 m2; 2 bedroom apartment: 86.5 m2; 3 bedrooms: 109 m2, 118m, 127 m2, 137 m2; 4 bedrooms: 167 m2.
Free management service fee
Charge for motorcycle: VND 45,000 / motorcycle / month
Charge for car: 1.200.000d – 1.800.000d / car / month
Vinhomes Nguyen Chi Thanh apartment complex surly brings you excellent living standard.
It was completed and put into use since 2016.